Are you looking to rent a 10 ton pickup truck in Dubai for your business needs? As a leading pickup truck rental company in Dubai, Haulier Transport offers high-quality 10 ton pickup trucks for rent at competitive rates.
A 10 ton pickup truck in Dubai is essential for transporting heavy cargo and equipment. With a large payload capacity, these rugged trucks can haul up to 10,000 lbs, or 4,500 kg of goods.
At Haulier Transport, we understand the importance of having a reliable 10t truck for your business operations and projects. That's why we offer a modern fleet of 10 ton pickup for sale in UAE.
Moreover, renting a 10 ton pickup from us gives you access to well-maintained trucks at cost-effective prices without the hassle of maintenance and ownership responsibilities. We take care of all the nitty-gritty so you can focus on your core tasks.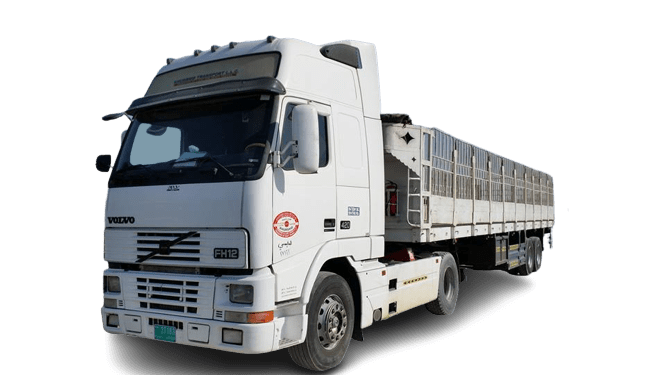 Benefits of Renting a 10 Ton Pickup Truck
Renting a 10 ton pickup truck in Dubai offers many advantages over buying one. Here are some key benefits:
Cost Savings:

Renting a 10 ton truck is cheaper than buying one. Consequently, you save significantly on a down payment, loan interest, registration, insurance, maintenance, and repair costs.

No Depreciation:

Rental trucks don't depreciate over time like purchased trucks. Also, you get to use an asset without its value diminishing.

Flexibility:

You can rent a 10 ton pickup for as long as you need. Short-term or long-term rental options allow you to scale capacity based on changing business requirements.

Latest Models:

We regularly update our rental fleet with new models. Moreover, renting gives you access to modern trucks with the latest features.
No Maintenance: Maintenance like oil changes, brake repairs, and engine tuning is our responsibility as the rental provider. So, you don't have to worry about any of that
10 Ton Pickup Truck Specifications
Here are some typical specifications for a 10 ton pickup truck:
Gross Vehicle Weight:

Around 14,000 lbs or 6,400 kg

Max Payload:

10,000 lbs or 4,500 kg

Engine:

Powerful diesel engine, 6-8 cylinder

Transmission:

Heavy-duty automatic or manual

Drive:

Rear-wheel or all-wheel drive

Body:

Flatbed, stake, van, dump truck and more

10t truck Dimensions:

Length: 22 to 28 ft

Width: 80 to 96 inches

Height: 100 to 120 inches

Tires:

All-terrain radial tires

Brakes:

Power brakes with ABS

Fuel Tank:

60+ gallon capacity
A 10 ton pickup truck in Dubai provides ample power, torque, payload space, and durability to haul heavy cargo for construction, equipment transportation, landscaping, and various logistical tasks. 
Services Offered by Haulier Transport
At Haulier Transport, we offer a comprehensive range of services to meet all your 10 ton pickup truck rental needs in Dubai:
Long-term and short-term rentals

– Rent a 10 ton pickup for a day, week, month, or longer. Scalable rental periods to suit your project needs.

End-to-end pickup and drop off

– We'll pick up and drop off the 10t truck at your desired location in Dubai.

Experienced drivers

– Our trained drivers with commercial licenses can operate the

10 ton trucks

for you.

Secure parking and maintenance

– Trucks are parked, maintained, and serviced in our secure yard when not in use.

Insurance services

– We offer comprehensive insurance coverage for our rental trucks. Get complete peace of mind.

Custom body and storage

– Based on your cargo, we can customize the truck with a flatbed, box storage, dump body, etc.

Logistical support

– Our team handles permits, route planning, load optimization, etc. to facilitate smooth goods movement.

24×7 assistance

– Expert support over the phone and email through your rental for absolute convenience.

Damage repair

– We take care of any minor repairs caused by normal wear and tear.
Trust us with all your 10 ton pickup truck rental needs in Dubai. Also, we offer round-the-clock assistance to ensure your cargo transportation goes smoothly and stress-free.
The rental rates for a 10 ton pickup truck in Dubai depend on several factors, like rental duration, truck model, additional services, and more.
Moreover, our rental rates are very affordable and competitive within the Dubai market. We offer daily, weekly, and monthly rental packages. Consequently, the longer you rent, the more value you get with our volume-based discounts.
Furthermore, additional charges may apply for add-ons like pickup/drop off, fuel, driver, insurance, mileage, customs, etc.
So, get in touch with us to get a customized, all-inclusive quote tailored to your specific rental requirements. As a leading 10 ton pickup truck rental company in Dubai, we offer very reasonable rates designed to provide maximum value.
Why Choose Haulier Transport?
Here are some key reasons to choose Haulier Transport for renting a 10 ton pickup truck in Dubai:
With decades of experience, we are experts at 10 ton pickup truck rentals. Also, we know exactly how to meet your heavy haulage transportation needs.
Our trucks are serviced regularly and have good uptime. Furthermore, breakdown risks are low, so your logistics operations will stay smooth.
Right from the booking process to delivery and pickup, you'll enjoy outstanding service from our team. So, your rental experience will be smooth and hassle-free.
Our trucks comply with all safety, maintenance, and regulation standards. You get perfectly roadworthy vehicles every time.
We offer very competitive rental rates tailored to your specific requirements. Great value for money!
From trucks to drivers, permits, and insurance, we offer complete end-to-end solutions. Renting is simple!
Rent a 10 Ton Pickup Truck Today!
Now that you know the advantages of renting a 10 ton pickup truck in Dubai and the excellent service we provide, it's time to rent one!
Furthermore, our team is ready to understand your cargo transportation needs, recommend the right 10t truck specifications, and provide a personalized rental quote.
To rent a 10 ton pickup or any other heavy commercial vehicle, get in touch with us today. Call or email us at info@haulier.com. We look forward to helping your business move heavy loads efficiently.