Unlock the Efficiency of Your Business with 40ft Trailer Hire in Dubai
Your search for a reliable 40ft trailer rental service Provider Company ends here with Haulier Transport's 40ft trailer or flatbeds in the market.
The right choice for the right equipment makes all the difference in the world of logistics and transport. A flatbed trailer or 40ft trailer hire is the go-to choice to move a large number of cargo for any business.
Our company specializes in providing flatbeds and 40ft trailer hire in Dubai to meet the unique needs of your business. Efficiency is the prime factor for any business success and Haulier Transport is providing its 40ft trailer hire service efficiently all across UAE to the businesses in need.
Our 40ft trailer hire service in Dubai is getting popular with each passing day due to the competitive prices. Furthermore, our 40ft trailer hire service can help you streamline your transportation operations and reach the heights of glory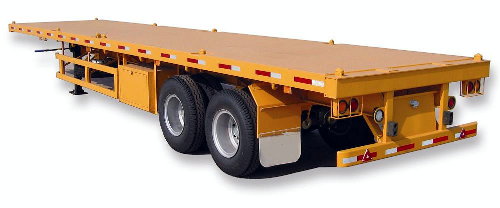 Types of Cargo at Haulier Transport:
Being a logistics company, two of the most game-changing tools we have are 40ft trailers and flatbed trailers. These versatile and efficient tools help us to tailor a unique set of solutions for your business problems.
Whether it's your requirement for the secure compartment of 40ft trailers or the boundless flexibility of flatbeds, we are here to help you. 
Protect Your Cargo with Our 40ft Trailer Hire Service:
Our 40ft trailer in Dubai also known as a container trailer or 40ft dry van can be your next logistic partner. With close decks, walls, and roofs, our 40ft trailer hire is the best option if you have palletized cargo to be transferred from one place to another.
 Our 40ft trailer in Dubai acts as a protective shield for your precious, expensive items and provides you with a sense of safety during transport.
Our 40ft trailer hire is the best option for companies who need a safe and secure environment for the transfer of their goods and products in Dubai or all across the UAE. Our company comes in the top 40ft trailer hire in Dubai with the quality services and reliability that come with them.
The type of shipping, a 40ft trailer is suitable is of clothing, electronics, cars, and other products. If you do palletize or box cargo then our 40ft trailer hire service is the best affordable fit for you. 
Features of our 40ft Trailer Hire Service:
The organized process of loading and unloading in our 40ft trailer is the emblem we put on the name of efficiency. Furthermore, it helps us with the on-time, safe transport of your goods. 
Security from theft and weather is paramount when it comes to the safe transfer of expensive and sensitive cargo.  Our 40ft trailers keep your goods secured and sheltered. 
From palletized to the box cargo shipment, our 40ft trailers provide versatility in the world of logistics. You can choose any 40ft trailer from our extensive fleet of 40ft trailers based on the dimensions you need.
Versatility Beyond Limits with Our Flatbed Trailers:
Our flatbed trailers come into the room when your cargo defies the proper shape and size standards. With an open deck and no walls, our flatbed trailers are the best fit for the transfer of your irregularly shaped items with maximum ease.
Our flatbed trailers can be used by moving and goods transport companies for the safe transfer of irregularly shaped furniture or pieces of equipment. 
Features of Our Flatbed Trailers:
With the open deck, our flatbed trailer provide multiple options to load and unload the goods from the sides, and roof, unlike the 40ft trailers.
We prioritize security on the flatbed trailers, as the safety of the goods is the first step in the conduction of a successful operation. With our multiple methods of strapping, chaining, and tarping we ensure the security of your goods. 
For unconventional cargo, our flatbed trailers are the perfect fit. We provide unmatched accommodation for the cargo that would be impossible in the enclosed trailers such as 40ft trailers.
We believe time is money and want to secure it for our clients too. To avoid costly delays, the choice of the right trailer is the only thing a company needs. If you have an inquiry, our team of experts is ready to help you at any point in time.
Elevate your cargo transport with our 40ft trailers and flatbed trailers and enter the world of success! 
Why Us Choose Our flatbed trailer Rental in Dubai ?
In the dynamic world of logistics transportation, the right choice of equipment can make or break a successful operation. Haulier Transport's 40ft trailer hire service is designed to provide you with safe, efficient, reliable, and affordable rental service.
 Our customized plans with our diverse fleet and customer-centric approach make us the ideal partner for your next transportation operation.
No matter, you want to hire us for a single-time or long-term contract, we will provide top-notch quality with affordable prices in our flatbed and 40ft trailer rental service. Moreover, our one-time service will be enough to change you from visiting customers to long-term satisfied clients.
Say goodbye to the outdated solutions to modern transportation problems and be a part of thousands of happy customers at Haulier Transport by hiring one of our 40ft trailers or Box Trucks for Rent in Dubai today!