We are providing Freezer Van on trip, daily and monthly basis with and without driver. The temperature can be maintained upto -18° degree.
Haulier Transport feels delighted to provide best Refrigerated and Dry transportation services all over UAE, Among all our Fleet we also have Freezer Van to serve you as per your needs at reasonable prices.
Having 10 Years Of Experience Of Rental Vehicle and Refrigerated And Dry Transportation Services In Dubai UAE.
Freezer van, chiller van, refrigerated van, and chiller truck are the primary transportation solutions offered by Haulier Transport, which serves clients throughout Dubai and the United Arab Emirates. Our transport services has developed a reputation in recent years for providing solutions that reduce complexity and boost efficiency for businesses of all sizes all around the United Arab Emirates. We provide rental car transportation with or without a driver, using game plans that bring together colder and chiller vehicles at affordable prices, with quick and easy agreements on a daily, monthly, annual, and excursion basis.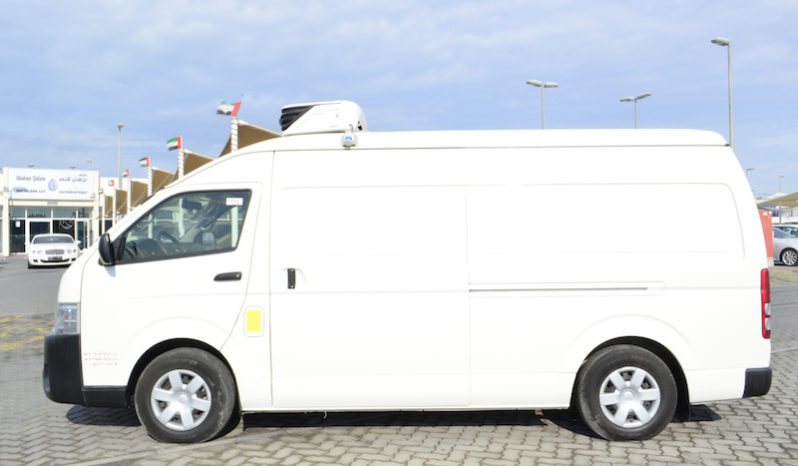 Freezer Van Rental in Dubai UAE
Less-Than-Truckload or Truckload We offer chiller van rental Dubai services to meet your requirements. For our clients, we keep things straightforward and simple. Our first duty is to keep your perishables secure and chilled because they are one of our most valuable assets. We are aware that when adjusted to the appropriate temperature, a chiller truck or Hiace chiller van for rent in Dubai may help keep temperature-sensitive goods cool and fresh.
Renting a refrigerated truck can be difficult, especially in Dubai. Your confidence in Dubai Chiller Trucks ensures that only your fears will expire while your perishables are in safe hands. Our refrigerated transport company is unique from others due to our devotion to hard work, honesty, and trust. Our options for chiller van hire in Dubai are created specifically for small companies.
All of our refrigerated van leasing offers can be customized based on specific requirements. Truck-Load or Less-Then-Truckload, our chiller van rental solutions are here to fulfill your needs. Your perishables are our assets and keeping them safe and cool is our principal responsibility. We understand that a chiller truck or chiller van for rent in Dubai can help keep temperature-sensitive commodities cool and fresh. when set to the required temperature. Our belief in trust, ethical practices, hard work, and commitment have made our refrigerated transport business stand out amongst others. Our chiller van rental solutions in Dubai and across UAE are tailor-made for small and large businesses.